About Us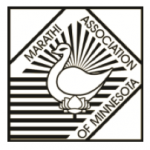 History and Objectives
The Marathi association of Minnesota (Non-Profit Organization under section 501(c)) was established with a view to build a community of Marathi people in a foreign land & help the new expatriates settle down easily. Now that many of our community members have 2 or 3 generations here, we also aim to maintain & increase the awareness of Marathi festivals & cultures in our community by hosting multiple events during the year.
Our Mission
To preserve and foster literary activities of the Marathi speaking community by
Establishing the Marathi community support system to provide educational assistance to youths and adults interested in Marathi language and literature and to provide necessary avenues to participate and support other educational organizations and efforts.
Organizing cultural activities specific to Marathi culture.
Committee
The Marathi Association of Minnesota is operated and lead by a volunteer committee. The current committee member profiles can be found here.